Electrolux Appliance Repair
Proudly Serving The Greater Vancouver Area
At Priority Appliance Service, we specialize in Electrolux appliance repair in the Vancouver area. As a locally-owned and operated business, we take great pride in providing fast and reliable Electrolux service. Our team of trained technicians are Factory Authorized to repair Electrolux appliances, so we can quickly diagnose and repair a wide range of issues.
Whether you're dealing with a broken refrigerator, a faulty oven, or any other problem, we're here to help. Plus, we offer competitive prices and a satisfaction guarantee for all of our services, so you can trust that you're getting the best possible value for your money. If you need Electrolux appliance repair in the Vancouver area, don't hesitate to call Priority Appliance Service!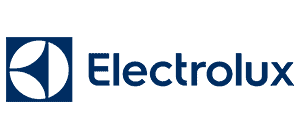 Why Priority for Electrolux Repair?
Priority Appliance Service is the most trusted company in Vancouver for Electrolux appliance repair because we are factory authorized! This means that we have been officially recognized by Electrolux as a reliable and reputable service provider for their appliances.
We have access to the latest training and technical information from Electrolux, which enables our technicians to provide high-quality repair services. Additionally, because we are factory authorized, our customers can be confident that their warranty will remain valid after any repairs are performed. This is an important consideration, as voiding a warranty can be costly and inconvenient.
Our status as a factory-authorized Electrolux Servicer is a testament to our expertise and commitment to providing the best possible service to our customers.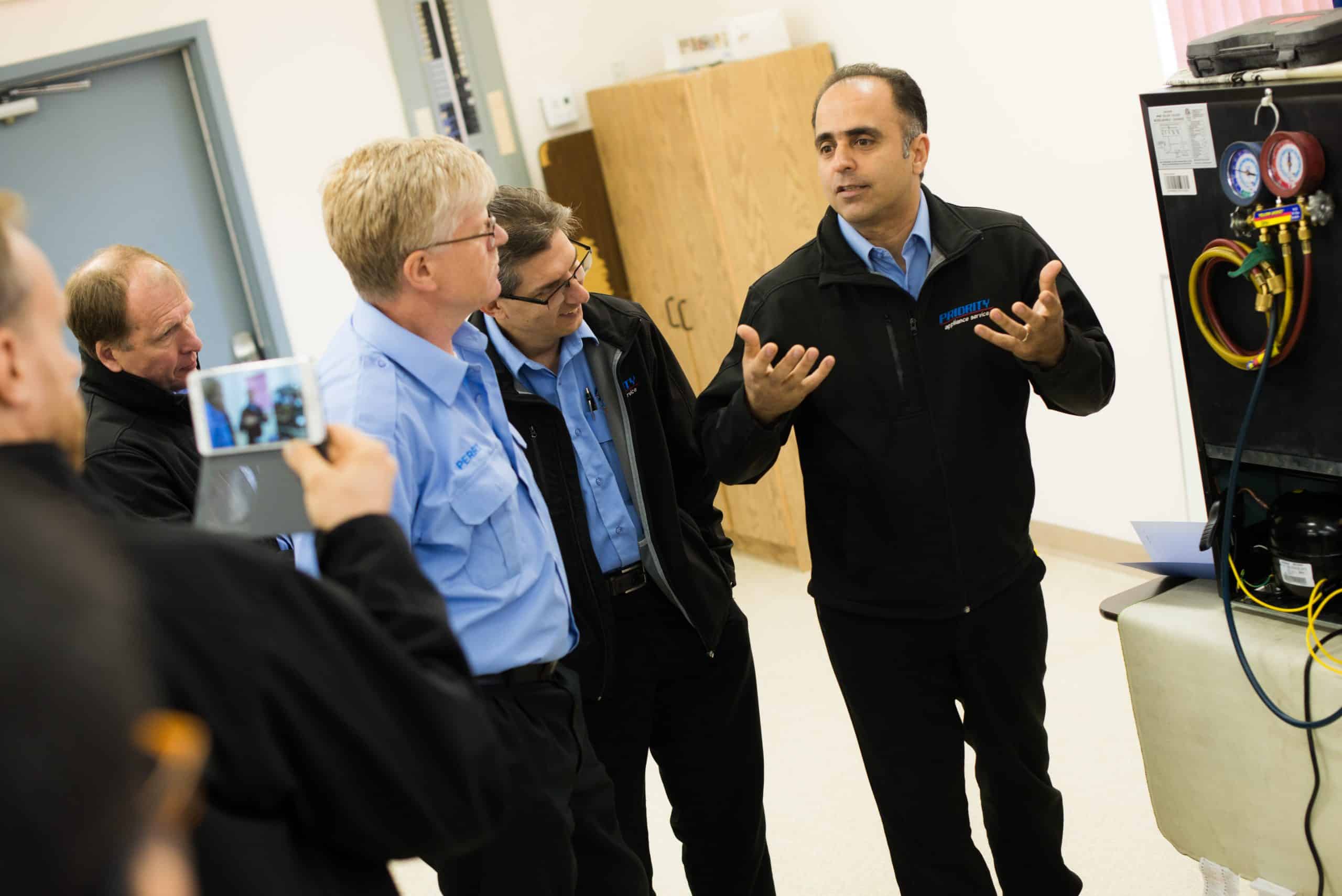 Our Electrolux appliance repair service menu offers a comprehensive range of repair services for Electrolux appliances. We can diagnose and repair a wide variety of issues, from broken refrigerators and faulty ovens to malfunctioning washers and dryers. No matter what type of problem you're experiencing, our team of trained technicians has the knowledge and expertise to get your appliance back up and running quickly and efficiently.
Cooking can be a delicate process, and Electrolux cooktops provide the speed and precision you need to create many different dishes. However, if your Electrolux cooktop isn't heating, it can end your cooking plans. When you need Electrolux cooktop repair, call Priority Appliance Service for factory-trained and authorized Electrolux cooktop repair. Our Electrolux cooktop experts are familiar with many common Electrolux cooktop repair problems, such as:
Cooktop Not Heating
Error Codes on Cooktop
Cooktop Not Turning On
And More!
Electrolux ovens and ranges are known for their innovative features, such as dual convection fans and fast heating. Electrolux ranges and ovens give you the best of both worlds, allowing you to cook more things simultaneously. However, if you need an Electrolux oven or range repair, it can make dinnertime stressful. At Priority Appliance Service, we have a team of Electrolux authorized technicians who are experienced in many Electrolux oven repairs and Electrolux range repair problems, such as:
Oven Not Cooking Evenly
Oven Not Heating
Range Not Lighting
And More!
Electrolux is a leading manufacturer of high-quality refrigerators, known for their innovative designs and advanced features. However, like any appliance, Electrolux refrigerators can experience problems and require repair. If you're having issues with your Electrolux refrigerator, it's important to address the problem quickly in order to avoid more serious damage.
Here are some common problems that may require Electrolux refrigerator repair:
Temperature issues: If your refrigerator isn't keeping your food at the right temperature, it could be a sign of a problem with the thermostat, the evaporator fan, or the compressor. These issues can be dangerous, as they can cause your food to spoil and create an ideal environment for bacterial growth.

Water leaks: If you notice water pooling on the floor near your refrigerator, it could be a sign of a leak. This could be caused by a variety of issues, including a faulty water valve, a clogged drain, or a damaged water line. If left unrepaired, a water leak can cause significant damage to your home and your belongings.

Noisy operation: If your refrigerator is making strange noises, it could be a sign of a problem with the compressor, the evaporator fan, or the condenser fan. These issues can be frustrating, as they can make it difficult to hear yourself think, let alone carry on a conversation. Additionally, they can be a sign of more serious problems, so it's important to have them addressed by a trained technician.
Electrolux dishwashers perfectly clean dishes with features to accommodate all sizes and shapes of dishes and protect your glassware. If you notice that your Electrolux dishwasher doesn't seem to be cleaning as well as it used to, you could be stuck washing dishes by hand. For a team of Authorized Electrolux dishwasher technicians, call Priority Appliance service. Our team has experience troubleshooting and repairing issues like Electrolux dishwasher not cleaning and more:
Dishwasher not Cleaning Dishes
Dishwasher Leaking
Dishwasher Not Draining
And More!
Electrolux has been a household name in the appliance industry for decades, and their washers are no exception. With stain-removing features that keep your clothes clean while preserving fabrics, it's easy to see why so many people love them! But if your Electrolux washer isn't spinning, it can't clean your clothes. When you need Electrolux washer repair, call our team of authorized Electrolux washer technicians who are experienced in many common issues such as:
Washer Not Spinning
Washer Not Draining
Washing Machine Making Loud Noise
And More!
Electrolux dryers have features that further enhance the laundry experience from your washing machine. One of these features is their accurate moisture sensor which helps detect the moisture in your laundry to prevent over-drying and under-drying. But if your Electrolux dryer is leaving your clothes wet, you need a dependable Electrolux dryer repair company like Priority Appliance Service. Our Electrolux dryer technicians have experience fixing many common issues.
Dryer Not Drying
Dryer Drum Not Spinning
Dryer Not Heating
And More!
Electrolux Appliance Repair FAQs
As an Electrolux Authorized Servicer, we have the skills, tools, and knowledge to answer all your Electrolux appliance repair questions. From common troubleshooting steps to routine maintenance, we can help you keep your appliance running smoothly.
EnergyStar qualified appliances have to pass strenuous standards and require manufacturers to display the efficiency level, average annual operating cost as well as comparisons with similar products on the EnergyStar label on your appliance.
The reason why these products are better than other standard ones? They use less energy! This means that over time you will save money on your electricity bill while protecting our environment by decreasing harmful emissions.
If your Electrolux dishwasher is leaking, there are a few steps you should take to address the issue:
First, turn the dishwasher off to prevent further leaking.

Next, try to determine the location of the leak. You'll need this information when you call for service. Is it leaking from the bottom, top, or side of the machine.

Once you have identified the source of the leak, it's best to contact a professional Electrolux repair company for assistance.

If you do decide to contact a professional for help, make sure to choose a reputable and experienced company that is familiar with Electrolux dishwashers, like Priority Appliance Service. This will ensure that your dishwasher is repaired properly and that your warranty remains valid.

Finally, once the leak has been repaired, be sure to regularly check your dishwasher for any signs of additional leaks. This will help to prevent future problems and ensure that your dishwasher continues to operate smoothly.
When using an Electrolux induction cooktop, it is important to use heavy, high-quality cookware. Make sure the cookware has a flat bottom to ensure even cooking. The easiest way to tell if your cookware is compatible with your induction cooktop is to use a magnet and see if it sticks to the bottom of the pot or pan. If it sticks, then it is compatible.
NOTE: Cookware made of stainless steel, aluminum, copper, or glass is not compatible with an induction cooktop.
Besides the type and quality of the cookware, make sure you are using the correct size. The inner ring of each cooking zone can be used as a guide for the correct minimum pan size.
Adjust the recipe's suggested temperature or cooking time as needed. Your induction cooktop provides exceptional temperature control that allows you to adjust heat faster than gas or electric cooktops, especially at lower settings.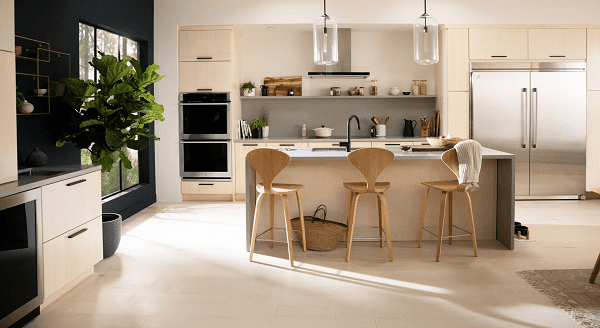 Our friendly staff will be happy to assist you in scheduling a service call, either in person or online.  Please provide your appliance brand name, model & serial number if possible, and a good description of the trouble. Having an accurate model and serial number allows our technicians to come better prepared, saving everyone time and money!
Use our helpful online service request anytime, or call during business hours.