KitchenAid Appliance Repair
in Metro Vancouver and the Fraser Valley
KitchenAid is an American home appliance brand owned by Whirlpool Corporation.

The company was started in 1919 by The Hobart Corporation to produce stand mixers; the "H-5" was the first model introduced. Called "the best kitchen aid" by an executive's wife, the KitchenAid Stand Mixer was born. The Model H-5 offers attachments that do everything from slicing to straining, branding KitchenAid stand mixers as versatile "food preparation tools."
The company faced stiff competition as rivals moved into this emerging market KitchenAid introduced its trademarked silhouette in the 1930s with the model "K", the work of designer Egmont Arens becoming the first of its kind to use a bowl that secured to the base with an interlocking motion. It is the first appearance of the now iconic "shape" which would later get its own trademark, and the world would know as KitchenAid.
KitchenAid stand mixers have changed little in design since, and attachments from the model "K" onwards are compatible with the modern machines. Dishwashers were the second product line to be introduced, in 1949 KitchenAid launches its first home dishwasher. Unlike other residential dishwashers that simply splashed water on dishes, the new dishwasher distributed water through a pressurized system. The dishwashers launched in pink and white.
In 1986, after acquiring Chambers Corporation of Oxford, MS to enable the introduction of a line of ovens and stovetops — KitchenAid adds its first refrigerators — leading to the brand's first full line of major home appliances
in 1993, KitchenAid further expands its arsenal with blenders, hand mixers and food processors — allowing home chefs and ambitious culinary creators more opportunity to experiment and challenge themselves.
Following up on previous professional cooking technologies brought to the home kitchen, KitchenAid adds induction cooktops to its appliance suite — offering cooks with limited counter space an extra burner to cook and create.
Today, some KitchenAid products are manufactured in Ohio, South Carolina, Mississippi, Indiana, Arkansas, Ontario, and Quebec while others are manufactured in China, and its appliances are distributed throughout North America. All KitchenAid stand mixers are assembled in its factory in Greenville, Ohio. The die-cast parts of the machines come from various manufacturing plants around the world and are hand worked to remove imperfections on the metal cases.
With chef-inspired design, smart features and exceptional performance, KitchenAid premium major appliances were created for those who live to create.
Here at Priority Appliance Service we strive to set the industry standard for customer service provided by our trained, qualified, expert appliance repair technicians. Priority Appliance Service is a family owned and operated business that has been proudly servicing KitchenAid appliances in Vancouver, North Vancouver, West Vancouver, Burnaby, Richmond, Ladner, Delta, Tsawwassen, White Rock, Surrey, Cloverdale, Langley, Coquitlam, Port Moody, Port Coquitlam, Maple Ridge, Pitt Meadows, Abbotsford, Chilliwack and the Fraser Valley for decades.
This means that Priority Appliance Service will arrive to your home with KitchenAid Range, Oven, Hood Fan, Dishwasher, Cooktop, Refrigerator, parts that enable us to pursue our goal of arriving at your home with the tools and parts that may be needed to complete your repair on the first visit.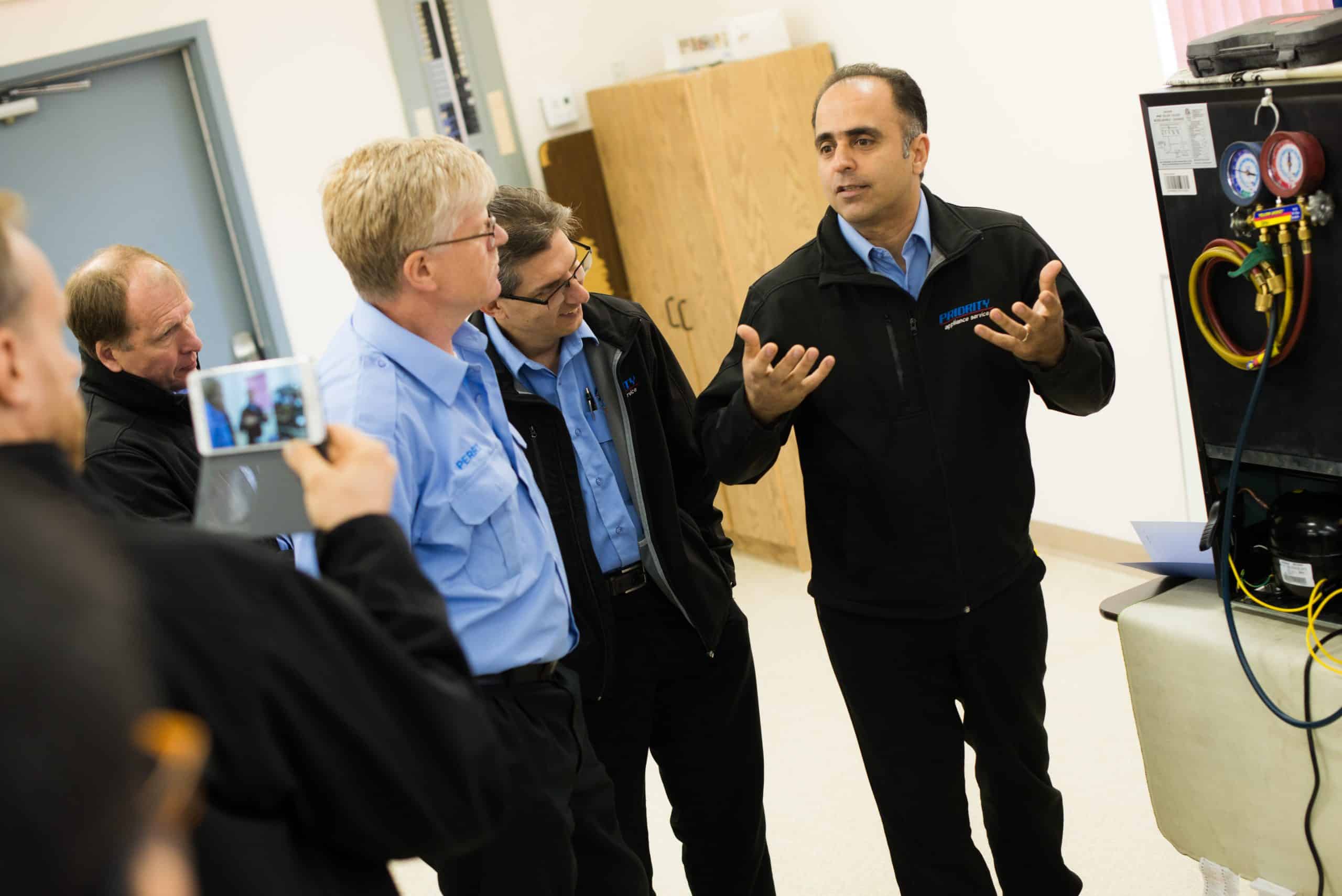 Many appliances are designed with built-in diagnostic functions that require special tools and information in order to properly diagnose and repair. Priority Appliance will arrive with these tools and computer applications ready to quickly diagnose and repair your appliance saving you time and money. Priority Appliance Service offers trusted, reliable, high quality out of warranty repairs on the following KitchenAid appliances:
KitchenAid refrigerators keep food fresh, so your ingredients are ready whenever you're struck with the urge to create. Our premium refrigerator features were designed to highlight form and function, creating a sleek addition to your kitchen while keeping all your ingredients organized, always fresh and easy to clean up after. Whether you're making dinner for two or planning a party, KitchenAid refrigerators will make sure everything stays at its best before, during and after meal prep. From leftovers to leafy greens, trust our refrigerators to help you keep your cool throughout the entire cooking process.
As the owner of a stylish KitchenAid Refrigerator keeping your food fresh is extremely important. Whether your KitchenAid Freestanding, Built-In, Side By Side, or French Door fridge or freezer is having trouble cooling or your freezer icemaker is not making ice, Priority Appliance Service is here to help. Please contact our Customer Care team to open a service call.
The possibilities are endless with the undercounter refrigeration collection from KitchenAid. KitchenAid's beverage centers help keep your wine and other drinks at the proper temperature, while KitchenAid's ice makers with Clear Ice technology are essential for anyone who entertains often. Enhance the style of your kitchen with KitchenAid's undercounter refrigerator drawers that match the appearance of your cabinetry.
Complement your KitchenAid cooktop or range with hoods and kitchen ventilation systems that effortlessly keep the air clean while you cook. Whether you're looking for over-the-range hoods or downdraft kitchen vents, KitchenAid offers the advanced technology to capture vapors and odours caused by cooking. KitchenAid also has retractable ventilation systems to enhance the aesthetic value by raising only when needed and remaining flush when not in use. We all love the aromas that come out of a kitchen when good things are happening, however sometimes there's too much of a good thing, and you depend on your KitchenAid Hood Fan to get some of that cooking smell outside where your neighbors can appreciate it too! Remember that running your KitchenAid ventilation at a low speed while cooking is important for ensuring that the exhaust gas from your KitchenAid gas appliance goes outside where it belongs! If your KitchenAid Hood Fan isn't sucking properly, Priority Appliance Service is ready to help.
KitchenAid Appliance Repair & Service
Priority Appliance Service offers trusted, reliable, high quality out of warranty repairs on the following KitchenAid appliances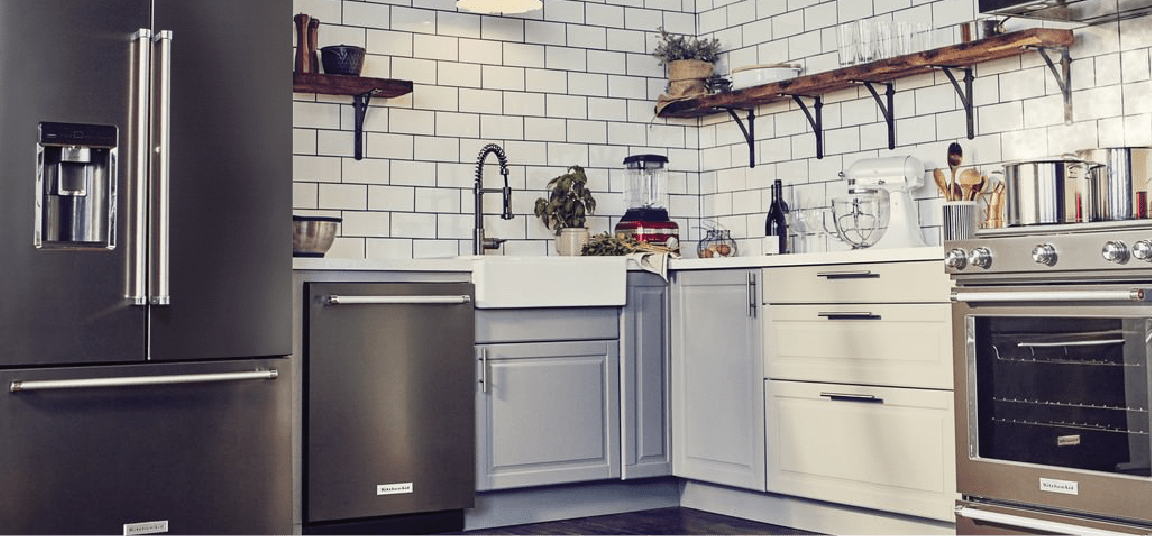 Our friendly staff will be happy to assist you in scheduling a service call, either in person or online.  Please provide your appliance brand name, model & serial number if possible, and a good description of the trouble. Having an accurate model and serial number allows our technicians to come better prepared, saving everyone time and money!
Use our helpful online service request anytime, or call during business hours.