Priority Appliance Service is always looking for talented individuals to join our team. Click on one of our available jobs for more information.
Priority Appliance Service is looking for skilled Appliance Repair Technicians that can deliver exceptional customer service while also standing behind the quality of their work.
As an Appliance Repair Technician with Priority Appliance Service, you will make good use of your problem-solving and people skills to quickly diagnose and repair major home appliances while in a customer's home.  Your strong communication skills allow you to confidently explain the details of the repair and to speak with customers.
Our Admin and back-office teams are here to support you, whether that means rescheduling an appointment or our Service Manager providing you with on-demand support when faced with a difficult issue.
Key Qualifications:
BC Provincial C Gas Certification.
CFC Certification.
Strong people skills and a knack for problem-solving.
Ability to maintain composure and customer focus while troubleshooting and solving technical issues in a customer's home.
Ability to manage your schedule of customer appointments.
Strong technical, electrical, and mechanical skills with excellent diagnostic ability.

What we provide:
Highly competitive salary that ranges between $65K and $104K per year.
Great benefits including Extended Medical and Dental.
A flexible working schedule
A provided company work vehicle or the option to be able to use your own.
Exceptional Admin and back-office support.
Ongoing training and support to help continue to grow your skills.
Company Uniform
Red Seal ITA Employer
This is a full-time position, Monday through Friday, with flexible working hours.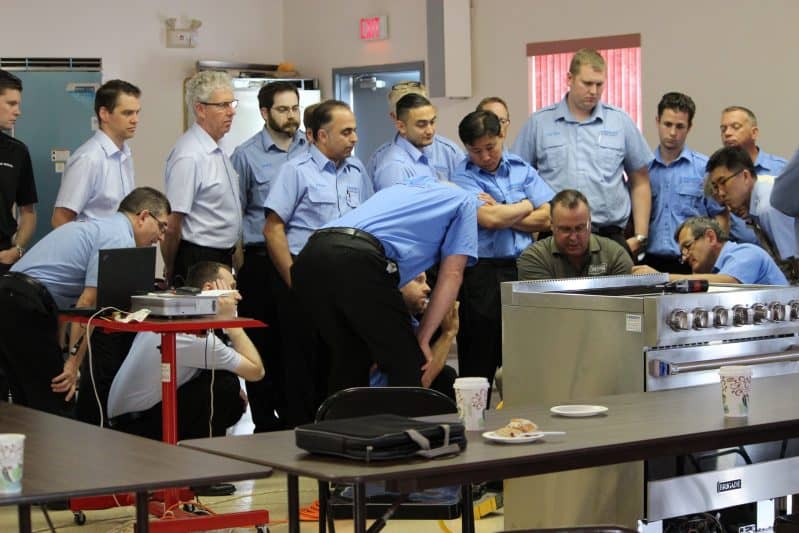 Kwantlen Appliance Tech Program
**For those who do not have the qualifications, but would like to learn more about this trade, please check out our Kwantlen University information page here Kwantlen Appliance Tech Program.
Priority Appliance Service is a strong supporter of the excellent Kwantlen Appliance Servicing program, which goes a long way toward preparing the apprentice/technician for the esteemed Red Seal Certification. We would be happy to answer your questions about the trade and how Kwantlen can help you get there. We are pleased to say that we have hired many students straight out of the Kwantlen Appliance Tech Program.